La voici comme promis ! Une nouvelle édition de Life In Harmony, ma collaboration avec ma chère Ange Designs, est maintenant disponible sur nos boutiques ! Pour cette troisième année de notre collection, nous voulons nous concentrer sur des beaux kits qui seront plus grands, avec des superbes « journal cards » pour les compléter, afin que ça puisse être utile autant pour le PL, que pour les pages plus « classiques ». Pour le premier thème de ce nouveau volet, nous ne pouvions que choisir celui qui est précieux pour nous : l'amitié ! Nous espérons que le résultat vous plaira !
Here it is as promised!!! A new issue of Life In Harmony, my collaboration project with my dear Ange Designs, is up at our stores! For this third year of our collection, we'll be focusing on bigger beautiful kits and gorgeous coordinating journal cards, so both the classic and the pocket scrapper can find everything they need to document their memories! The first theme of this new chapter had to be of course the one that's precious to us: friendship! We hope you like what we came up with!
Tous les packs sont à -40% jusqu'au 20 mars
et nous avons aussi une offre super spéciale pour vous !
SEULEMENT jusqu'à lundi aussi, le pack de journal cards est OFFERT pour tout achat du kit
!!! (Vous n'avez pas besoin de l'ajouter à votre panier, vous recevrez tous les liens de téléchargement de façon automatique à la fin de votre achat). Profitez-en !!!
All the packs are 40% OFF through March 20th and we also have a very special offer for you! ONLY through Monday too, you'll receive the journal cards for FREE with the purchase of the kit!!! (You don't need to add them to your cart, you'll get all the download links automatically after finishing your purchase). Enjoy!!!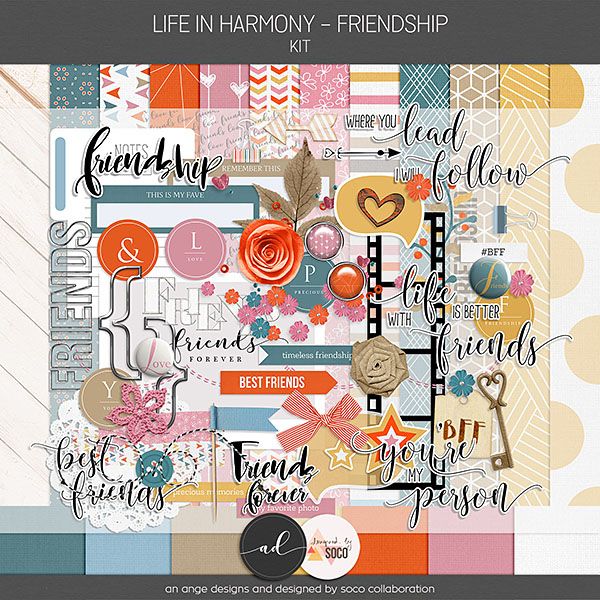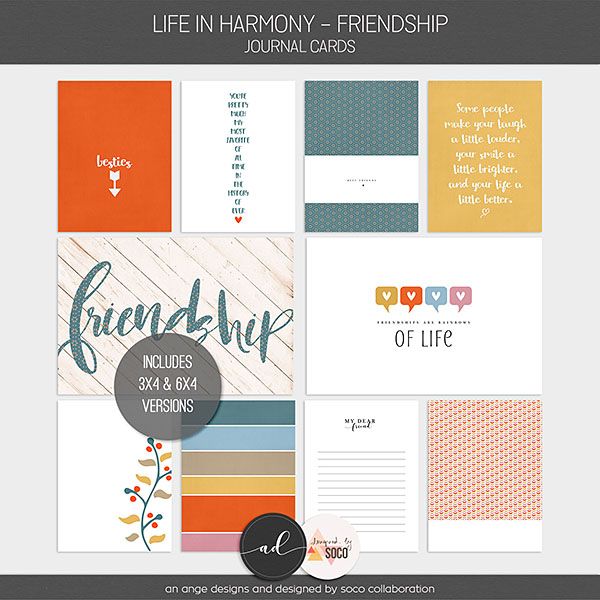 Bien entendu, toute la collection est également disponible et en promotion sur
la boutique d'Ange
!
Of course, the entire collection is also available and on sale at Ange's store!
Voici un peu d'inspiration de la part des filles de nos CT et de la CT d'Oscraps:
Here's some inspiration from our CT girls and the Cheery-O's:
Voici les résultats du tirage au sort !
Félicitations Aurélie !!!
Envoie-moi un message à designedbysoco_at_gmail_dot_com ou un MP sur
ma page Facebook
pour te faire parvenir ton cadeau !
And now, here are the results of the drawing! Congratulations Aurélie!!!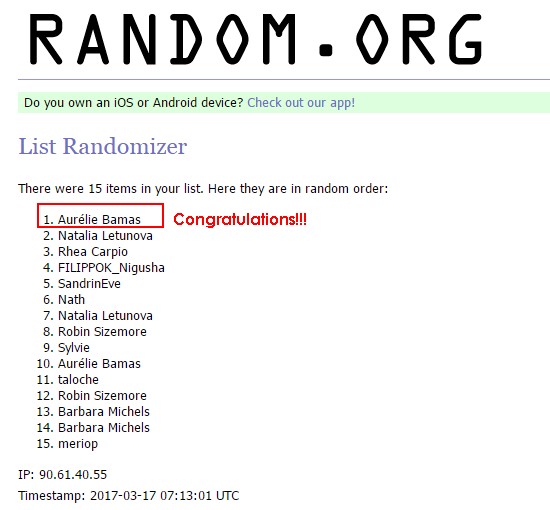 Allez voir les résultats du tirage
chez Ange
pour découvrir le nom de l'autre gagnante ! Si vous n'avez pas gagné, n'oubliez pas que vous pouvez toujours vous procurer tous ces beaux produits à -40% et recevoir les journal cards en cadeau si vous achetez le kit !
Go to Ange's blog to find out who the other winner is! If you didn't win, remember you can still get all these beautiful goodies for 40% OFF and receive the cards for FREE if you buy the kit!
N'oubliez pas que la fête d'anniversaire d'Oscraps et notre super promo de
-40% dans la boutique
bat toujours son plein pour quelques jours !!!

Remember that Oscraps birthday party and our amazing 40% OFF storewide sale is still going strong for some more days!!!

Je vous souhaite un bon week-end !
Have a beautiful weekend!