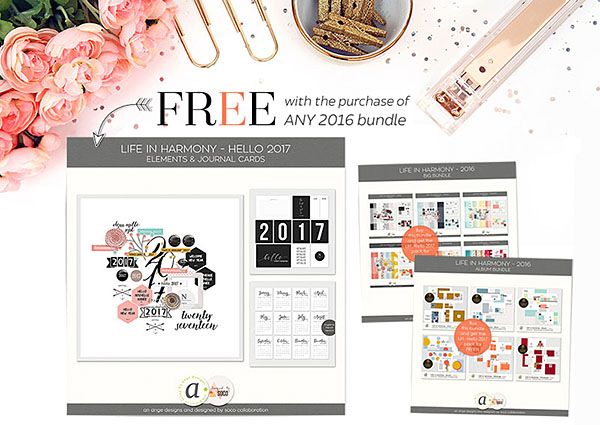 Hello 2017 ! Ange et moi sommes heureuses de vous présenter notre tout premier pack de 2017, qui sera parfait pour mettre en page vos jolies photos et souvenirs de ce début d'année !
LIH – Hello 2017
est disponible en
pack complet à un super prix spécial
, ou en
3 mini-packs séparés
(
éléments
,
journal cards
et
cartes calendrier
–en version anglaise et française-)
à -20% jusqu'à dimanche
!
Hello 2017! Today, Ange and I are bringing you our very first pack of 2017, which will be perfect to document your pictures and memories of the year beginning! LIH – Hello 2017 is available in a full pack at a very special price, or in 3 separate mini-packs (elements, journal cards and calendar cards –in English and French versions-) for 20% OFF through Sunday!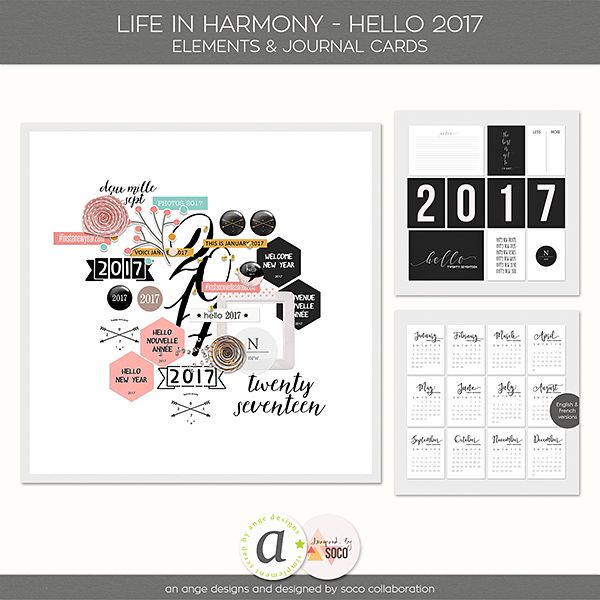 Mais ce n'est pas tout ! Vous trouverez aussi en boutique dès aujourd'hui
nos 6 collections LIH de 2016 réunies en une seule
! Il y a 2 super bundles disponibles (
collection complète
et
albums
) à un prix très avantageux et, en plus,
avec l'achat d'un des deux bundles, vous recevrez en CADEAU le nouveau LIH – Hello 2017
!!!
But wait, that's not all! You can now get the six 2016 issues of Life In Harmony bundled up in only ONE pack! There are 2 bundles available (full collection and albums) with a HUGE discount and, with the purchase of any of those two bundles, you get the new LIH - Hello 2017 pack for FREE!!!
Et j'ai encore plus !!! Un nouveau pack de templates dans ma série Love Triangles est disponible en boutique et en promo à
-20% jusqu'à dimanche
!
And I have more!!! A new addition to my Love Triangles templates collection is now available at my store and 20% OFF through Sunday!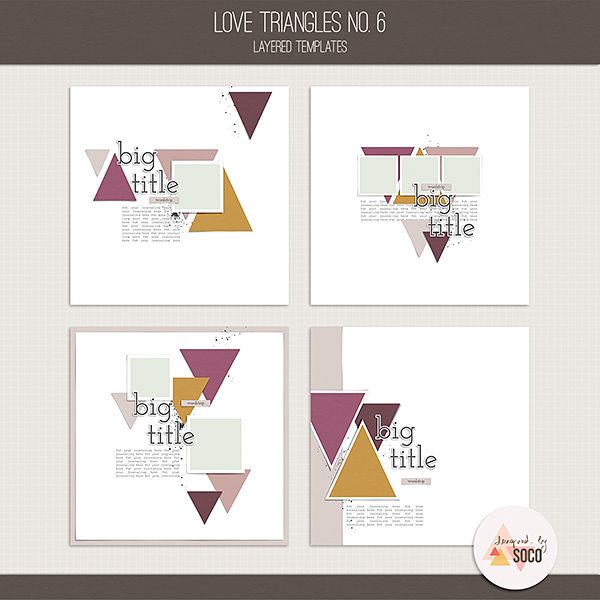 Voici un peu d'inspiration de la part des filles de la CT et de la CT d'Oscraps :
Here's some inspiration from the CT girls and the Cheery-O's:
Je vous souhaite un bon week-end !!!
Have a great weekend!!!